About Us
Learn about The Trove's mission and core services
Integrated Procure-to-Pay Solutions (IPPS) Logistics in partnership with Housing Dining Hospitality (HDH) brings you The Trove, the new campus hub for the Mailing Center and Student Mail.  The Trove offers greater access to a wealth of Logistics services at one convenient location for both the campus community and family, visitors, and guests of UC San Diego.
OUR MISSION
Our mission is to implement a holistic strategy that transforms UC San Diego's mailing process with advanced technology, increased safety, and expanded service levels.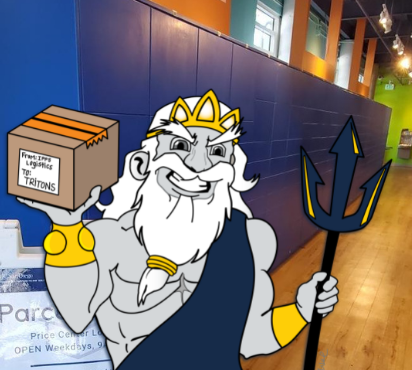 CORE SERVICES
The Trove is home to one of several consolidated student mail parcel centers on campus. In partnership with HDH, IPPS installed 229 smart lockers at this location. Student residents who pick up their packages at The Trove are among the first to experience contactless package pickup from a student parcel center. The Trove is also home to UC San Diego's Mailing Center: a full-service shipping and mailing postal annex that is open to the public and offers competitive, university-contracted shipping rates for UPS and FedEx.
Origins of The Trove
What's in a name?
"King Triton from ancient Greek mythology is 'sea-hued' and has 'shoulders barnacled with sea-shells'.  Barnacles aggregate, amass, build-up…and these are all synonyms for the word trove.  A trove is where you stash things…as we do with lockers.  Also, 'trove' is often paired with the word 'treasure', which is a fun way to indicate that the center is like a treasure trove of Logistics needs." - Heather V.