Ted Johnson
Associate Controller, Chief Procurement Officer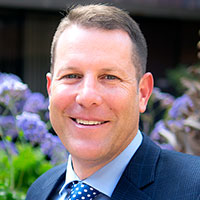 858-534-5803
9500 Gilman Dr
Mail Code: 0951
La Jolla , California 92093
Profile
Awards and Certifications
Articles and Presentations
Profile

Ted Johnson is Associate Controller, Integrated Supply Chain, and Chief Procurement Officer at the University of California San Diego. He is responsible for all aspects of supply management at the university including Strategic Procurement, Accounts Payable and Receiving and Distribution. Ted is also responsible for managing satellite procurement operations at the Scripps Institution of Oceanography, campus housing and dining, and facilities management. Additionally, he oversees Student Financial Solutions, which includes Student Business Services and Cashiers.

Ted was selected 2012 Practitioner Pro of the Year by Supply and Demand Chain Executive in part for envisioning and implementing an Electronic Procurement Consortium that served as a unified platform for the UC System.

Prior to joining UC San Diego in 2006, Ted held the position of Director of Global Integrated Supply Chain for Sony Electronics and Director of Procurement for Hitachi Home Electronics, which included international assignments in Japan and Mexico.  After receiving his BA from the University of California, Santa Barbara, Ted was awarded a fellowship from the Japanese Ministry of Education to pursue his Master's degree in International Business Management at the University of Tsukuba. 
Awards and Certifications

Awards
2012:

Named Practitioner Pro of the Year by 

Supply and Demand Chain Executive
Articles and Presentations

Articles
2014:

'How to Build a Better Procurement Department' featured in the Fall NAEP Educational Procurement Journal

2011:

Featured in University Business 'SpotLight on Procurement'