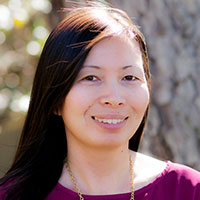 9500 Gilman Dr
Mail Code: 0026
La Jolla , California 92093
Profile
Awards and Certifications
Presentations
Profile

Gayle Ta oversees Student Financial Solutions which includes central cashier, University billing, student client services, loan administration, and campus card services.

Before joining IPPS, Gayle worked in several other UC San Diego departments, including the Division of Biology, Philosophy, Neurosciences, and Calit2 (now called Qualcomm Institute). Her responsibilities included financial management, contracts, and grants administration, data analytics, and student affairs.

Fun Fact: Gayle is a UC San Diego alumna and a founding member of the UC San Diego Sustainability Network, an affiliate group of the Staff Association.
Awards and Certifications

Awards
2016:

UC Procurement Services Innovation Recipient

2015

Sustainable Purchasing Leadership Council Case Study Award "A Collaborative Approach to Supplier Sustainability Assessments"
Certifications
Project Management Professional (PMP)
Presentations

Presentations
2016:

CA Higher Education Sustainability Conference (CHESC): "A Collaborative Approach to Supplier Sustainability Scorecards" presented by Gayle Ta, Nancy Nieblas (UC Santa Cruz), Will Watson (UC Santa Cruz)
Sustainable Purchasing Leadership Summit: "Key Note Panel Conversation: Streamlining Supplier Sustainability Evaluation and Engagement" presented by Gayle Ta

2014: